AOR Admin
Staff member
AOR Admin
Click here for the 2020 Update
Click here for the 2018 Update
Click here for the 2017 Update
2016
Hey, I'm Erti and I'm going to give you my take on an epic 4 years being involved in AOR. I'll talk about the gaming, the forum, the people and how it's influenced my life. I'll try make it short. :arghh:
Let's start by going back to the year 2000. Yes. I was 5 years old and at nursery. Here is where I would meet my best friend. We were proper best friends, none of this half arsed stuff I hear of. We went to each others birthday parties and so on. Then in late 2006/early 2007, he was diagnosed with kidney cancer, something only people in their 40's and over could get, or so we thought.
I had faith in him he'd fight it off. He was cleared of it like a year later, but the joy was short lived, as he was re-diagnosed a few months later. Throughout the next year he wouldn't be able to leave the house as much in the summer and see other friends ect. He would miss a lot of school as well, and this was demoralising for myself being at high school for the first year and him not being there.
In January 2009, I was at his house, and he was skinny as me, and had no energy. I sat and played Mario Kart Wii while he could only watch. Wish I'd hugged him before I left.
3 weeks later on February 8th 2009, I was up in the morning playing Animal Crossing on the Wii, (yes I got up before noon in those days) and Mum came downstairs to say he had been ill in hospital all night. About an hour later, we got the call that he'd passed away. And at that moment I stood there and had some sort of flashback of all the past 10 years, when it should of been a whole lot longer. This would change my life and my outlook on it.
At his funeral so many turned up, probably like 100 at the church. Then we all went out to his resting place where the enormity of love for him was clear to see, a massive circle of people surrounding the burial. Really was incredible.
The months passed, and we got to September where it was his birthday. Me and his family went to visit his decorated grave. And, to this day, this is the most amazing things that's ever happened.
First of all, as we walked up to the grave, it stopped drizzling of rain and the sun came out. We also had a picture of a particular butterfly with a message and my friend's name on, next to the grave. And moments later, the exact same butterfly appeared, it flew all around us and then landed on the picture perfectly for a few seconds, and was gone.
I sit here and write this almost 7 years later, and can tell you what and how we coped. In 2010 we set up a charity in his name. I done a speech in front of my 200 student 4th year at school to talk about my him and the charity. I was co-treasurer along with my mum and handled the finances. We done a load of events and since raised over £50,000 in a town population of 15,000. At one of the events I even enjoyed myself and drank so much I spewed everywhere, such a lightweight.
All these things, I'm very proud with. (apart from the latter) :wtf:
Shall we get onto something more upbeat?
Now in 2009, I was a big Nintendo fanboy for a few years, which led me onto joining the Official Nintendo Magazine forums.(ONM) I was a big player of Mario Kart, and quite frankly, I was one of the best around. :lol: How can you be 'good at Mario Kart with all the weapons you may ask? It was all about the tactics , and also me spending hours and hours trying to beat leaderboard Time Trial times. Eventually I joined a league someone had made up a section of the forums called 'Formula Mario Kart'. These were just 4 x 3 laps races around the same track each week. When during the week? Saturdays at 3 o'clock in the afternoon. Now how weird does that sound compared to league times nowadays. This all might of sound silly, but it was really competitive. After 4 months of racing I ended up winning by 22 points with a week to spare.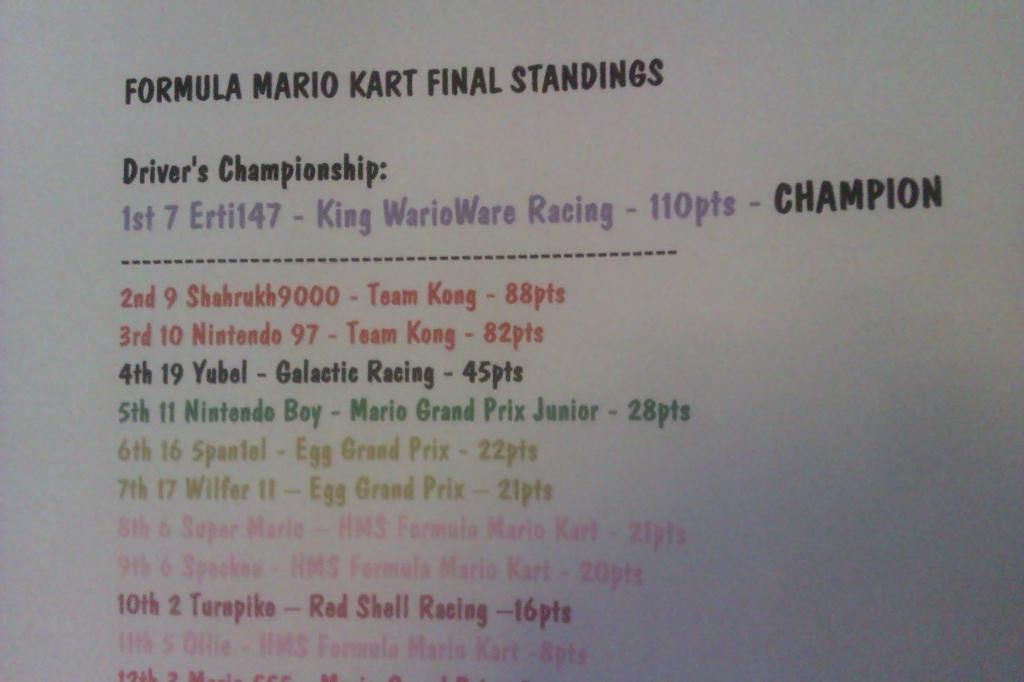 And that remains my proudest and saddest achievement in gaming to date, as you can tell if you walk in my bedroom and see a sheet of the final standings printed out and stuck on my wardrobe , along with the winners avatar and the date of the win - 26th September 2009. Not sad at all. I told everyone at school I was the 2009 British Formula Mario Kart Champion and they all believed me.
There was a S2, but I couldn't challenge for the title because of so many disconnects, but my teammate did, and won the title himself. Me and my teammate actually became good friends out of this and spoke a lot over text. After a couple of years he disappeared though, too early to gloat to him about Hamilton winning. And there was a S3 but that got cancelled because of so much arguing in the forums lol....
In early 2011 I joined Race Department, and joined an F1 2010 league. Didn't really speak to anyone on the forums or during the races. I ended up literally forgetting about the league after like 3 races, and went into a period of not being involved in any league for a while.
So let's actually get onto AOR.
So how did I end up joining. Well. On January 8th 2012 at about 3am, I was in a public lobby on F1 2011, racing around Spa. I was in the lead by a long way. I was on the last lap. I'm in a McLaren. In the downhill bit after the kemmel straight, there were lapped cars messing about, (these guys were friends in a party) One of them was a Mclaren and the other two I don't know. I thought I was well clear of them once I passed, but as we got to the corner with no name, I get nailed into the wall and "Erti147 has destroyed his vehicle". :rage:
I message the guy that done it, and he explained that he thought I was his mate, in the other McLaren. I called him a prick. This guy wasn't any old person. It was
@Dan Hawkins
Things settled down and we got into some messages and he advised me to sign up to ARL as it was at the time while he kept apologizing. I did this, and have never looked back since. :woot:
Oh boy, I remember when I was a forum noob back then. Joining my first social, relying on Dan to help me for everything. Nobody knew me, I was on ma own, everyone was having banter I didn't get.
Well anyway, I had joined the league in time for the start of Season 4, (second season on 2011 game)and so had fellow new member
@Jay
. We were added to the same league, Formula 7. Yes, back in the day when we even had a Formula 10. I was basically a mid grid person result wise there, with a very annoying Australian in there oh lol. I remember when I was holding up this guy up around Monaco and he wouldn't stop crying on game chat cos he thought he should be leading the race. Anyway during that season I was pretty inactive on the forums, and no showed like once.
In Season 5 I was up to Formula 6
I was a lot more talkative on the forums, but was still mid grid pace.
I have to admit, I was a sweaty bastard back then, participating in almost every social through the week.
I'd hang about with
@Jay
a lot on the Xbox, talking about setup's and doing loads of 15 minute qualifying sessions for example. Aside from the F1 stuff, I would stay up late and play others games at the weekend with the likes of
@LC SPEED DEMON
and
@Dan Hawkins
. One night LC fell asleep so me and Dan trapped him on Minecraft in a cube made from a block that takes a while to break so we found it hilarious at 3 in the morning. Minecraft 16.45 on this video is the moment we look at each other and realise how much of a genius pair we were -
At some point in 2012, Dan left ARL. When this happened I thought it was the end of the world, as the guy who brought me here had long. It was just quite sad. I thought I guess we'll just have to move on....
Season 6 now and we were up to Formula 5. We got to Valencia and put it on pole for the first time. After 37 races I got my first win, pretty emotional....pretty sad as well.
The week after, I was in the lead on the final lap, with
@f1 turtle
right behind me, going into the old turn 1, I went wide and lost the race. Much banter has occurred since then. Went onto get a couple more wins that season luckily. Was in two or three tight races with the mighty
@matt785shimmy
, being within a couple of seconds in each throughout the entirety of the races, beaten every time though. Still not good enough to beat my main rival after all these years
@f1 turtle
to the title.
Onto the 2013 game now and Season 7. ARL was in its prime with much interest in the top F1 league from in and outside the league. The site was invaded with TRL members, of whom I despised of at the time. But if they're joining ARL, we must be better right? Things were just generally thriving. As for myself, I had finished school and onto college, so a lot more time to practice.
I was up to Formula 4 now and the field looked pretty competitive for the upcoming season. With Australia abandoned because of Xbox Live, we started at Malaysia. Here I let
@Damo
get his first ever win
I led the championship from China with another 2nd place. we got to Silverstone and I had done well through the week, sweating it out in each social. On Sunday night I took my 4th career pole with a PB of 29.5 by a tenth. We got into the race and I build a decent gap in the first half of the race. As we got into the second stint though, the legend that is Batchy took a tenth out of me per lap.It was the final lap, and he has passed me into the hanger straight, but he went wide on exit and let me alongside for the final two corner,s I held the outside, and then the inside to win. -
.
The most incredible race, and because of sad I was at the time, I just about couldn't breathe at the finish.
It felt even better seeing as I had threw away the lead the previous season. And that was the highest point ever for me in F1 league racing lol
And that was as high as it got for ARL.
On the 8th January 2014, I woke up to load the site for the first time, to celebrate my 2 year anniversary with ARL. But I only loaded a single page to see the message of doom. ARL was gone, all the people I had met and talked to, everything gone. I thought the world was ending again. Thought it was all my fault that I had caused a coincidence of which 2 years later to the exact day I joined, the forum dies.
But this is where the community strung together, and with the power of social media, a new chapter had begun. Dan had came back to see us in turmoil, and along with Fisi and all the rest created this forum, AOR, a week later.
Under new ownership, everyone was back together. It was a miracle, shall we say.
We got our heads down to getting things running again. The leagues (apart from F1) were pronounced S7a, thus handing me a hollow championship win. But nobody cared, everyone was just glad to be back together, even if it was just not having that central hub for a few days.
Onto S7b now and Formula 3, I was back to my average 5th, 6th place finishes pre S6. Higher league and tougher it got as you'd expect. During season 8 and we were getting samey results.
But then this game called GRID Autosport looked good so I bought it. This was my first little coordinating job and a small number of people. The racing? Touring car racing = heaven. Even more exciting than the F1 leagues, side by side everywhere...awwwww....just brilliant. We were just starting these leagues and hype was building for F1 2014 game, and we all saw how that turned out. The GRID leagues, which last 4 seasons, were a little gem sat in the Other racing game part of the forum. Through these leagues, we made even more friends. I looked forward to this on a Wednesday night more than F1, because quite frankly, I was shite at F1 up in GP2 of Season 9.
I made a montage of the leagues at the back end of Season 4, pretty decent editing by myself
-
http://apexonlineracing.com/community/threads/goodbye-grid.5906/
S9 was the first season of the 2014 game but the Wheel/Pad inequality was demotivating for a lot of people, including myself. Next to no practice was done.
2014 was so shite that nobody really wanted to do another season on that. This was the first time that I felt like that things started to die down. But we went back to the 2013 and there was some competitive racing again. it was reignited.
While we raced these fun little races each week, focus was shifting to Project CARS.
I was also thinking about my next gen future and in the end, I went with PC. I mulled over it for a long time, as I really didn't want to leave the Xbox part of the community. But for once my own personal interest came above the forum and the most logical was PC.
New chapter in AOR for me, meeting new people, felt like I had just joined. Not knowing anyone's names from their voices, nothing....but then I remembered
@Jay
was on PC now
So I had one friend.
Here's ma final Xbox F1 stats for the fun
- 7 full seasons | 97 Races | 4 Wins | 4 Pole Positions | 20 Podiums | 824 Points | 52 Top 6 Finishes | 3 Fastest Laps (debut @ Australia S4) (stats exclude Season 9.5)
- Only person ever to go from F7>F6>F5>F4>F3>GP2
While on the subject, I also take pride in the fact I have never received a stewards penalty from a league race. Might of avoided a couple over the years from my amazing persuasive skills but y'know.
January 2015 was when the PC era began. This was after messaging
@Jay
every two minutes on how to build a PC. I was still working so I went crazy on PC stuff and iRacing. Joined our iRacing league and I've had so much fun the past year...annoying ma teammate
@frejo
by never not speaking. Last April I bought the T300 wheel, instead of using this old Xbox wheel. Bear in mind I had been using a Pad for the F1 leagues, so this sim racing was pretty new. It's quite interesting for example to see myself on the pace of
@NillisLukins
on iRacing when he'd be a couple of leagues above me in the F1 leagues, then we get onto a proper sim and things can be different.
After Round 1 of Season 4

After finishing 7th-8th with my teammate at Round 10 of Season 2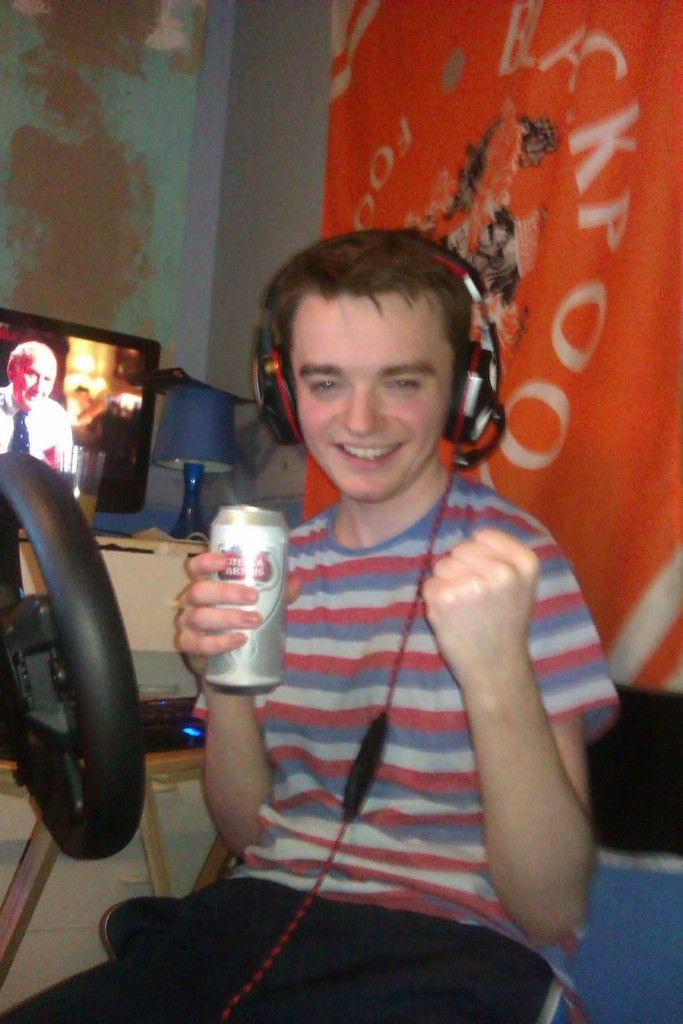 We got into March of last year and my 6 month job was finished. So I was unemployed... but hopefully not for too long! But nah, it went on and on, and, it's not as if I don't have good qualifications, it was just finding the right job. It went on 8-9 months. This period is probably the most depressing part of ma life. I wasn't in a state of depression as such, very mild at that....a lot of people are unemployed. Just when you are sitting on your arse all day..some days can be bad. I'm a lot different off AOR, a lot of varying degree of depressed people
are
different in private. A lot sad people are also the funniest....and that's what I have strived to do for years, just make others laugh.
Having AOR around through this period was the best thing for me. The Project CARS leagues were under way and I had something to occupy me being a coordinator. Being unemployed also gives you chance to race all day so I was on iRacing half of the time, sweating it out for the league like I did in the good old days of Season 6 and 7 of the F1 leagues. Laughing at stuff someone posted on the forums each day, it's great.
Speaking of Project CARS ever since we started those leagues a lot of life has been induced back into the forum, filling some of the gap left by F1.
Back in October I went and done a 4 week college/work experience course. The work experience was at the Borders General Hospital. At the end of the 4 weeks, a job had come up, and to cut it short...I got it. It's till the end of March as I write this but it's money and it's getting out of the house. Things looking up.
Now this other job I've had for a while... that one where you don't get paid.... ah yes, it's being a coordinator! This means you have a responsibility to an extent. You shouldn't take it seriously as its 'just' an online forum, and you don't have an obligation to do it. Of course I take it seriously cos I love the place. But it's when you get messages from relatively new members asking for guidance...that's when it really hits home. You're a respected member of the community.
And boy, I respected a couple of the guys mentioned below when I was new to the community.
@iJokeri22
- The past couple of years I've spoke with this guy a lot, and we've talked and talked for hours on AOR chat about a lot stuff, especially about how good Hamilton is. He's one of the guys that gets me, and was there for me to cry at back in October when I was quite downbeat
@LC SPEED DEMON
I love this guy. So much banter over the years it's indescribable, but memorable. Hours of fun with F1, Cod and various other games.
@FisiFan91
- I don't think I need to go on about this man, enough has been said around here about him, he's just a great laugh behind the scenes and the forum couldn't have a better man in charge.
@Dan Hawkins
- I wouldn't be here if it wasn't for Dan. I'll eternally be thankful for taking me out. I wish he would take me out again....to a restaurant...and then to his house... where we can play all sort of games.
@Rug
- Now this guy, his way of doing things as a super mod was brilliant. His posts could be so blunt when it came to telling someone something obvious or telling someone off for bad behaviour. Oh christ it was funny. But he knew how to have fun as well of course. Most of you probably hadn't noticed but he stepped down from mod last year cos he wasn't in any leagues. What a pussy. :finger: But I noticed these things because I care about the man.
@Du7cH
- He's not been on the forum for months so he'll probably never see this. I spoke to this guy for hours on Xbox Live party for a good year and a bit. I annoyed him, made him laugh, he made me laugh. We fell out a couple of times but all was good in the end. He gave me guidance on the forum as a super mod himself. Another man I miss from the Xbox days. And Dutch is 47. Just shows you can make friends with all ages.
Before we finish this off I'd like to mention something you probably didn't know..... I quite like Lewis Hamilton. I quite like to annoy on social media and to members on here that Hamilton is a great talent, and they can't deny it, everyone has saw him win incredible races in a McLaren that was level on pace in the early years, and well behind the Red Bull in the latter times, but he'd always be on the front row keeping Vettel honest in qualifying. OK, fanboying aside. I have very much enjoyed seeing Lewis win the past two years, but don't get me wrong,I also want to see F1 back to being far more exciting. Imagine though, F1 was exciting, cars were pretty much equal...but Lewis won most of the races still, cos he basically the best driver yeah? Then everyone can't say it's boring and everyone can't deny he's great.
OK OK, it's getting too tense in here, but friendly tense. :rofl:
http://www.abc.net.au/news/image/6884230-3x2-700x467.jpg
So yeah, a lot of unfortunate stuff has happened in my life, but a lot of stuff has happened in other people's life. But I wanted to write this to show how something little as a racing community, online, can actually make you feel great, and help you forget about other rubbish. A forum can be daunting at first, but once you get to know other 'imaginary' people over the internet with the same interests, it becomes part of your life. A forum that I was never meant to come across, and only did because I repeat, I was in the right place at the right time playing F1, for Dan to destroy my race. A forum where you don't just 'sign up and turn up'. To think I was basically 17 when this all started, now I'm nearly 21.
And that's why I can never see myself leaving this place. If anything it will be the other way around. Can you imagine AOR continuing past Fisi's ownership for years and years.to come? Ourselves in our 30's 40's 50's (I speak for the majority around my age lol) (I'd like to see
@Jay
around here in his 80's) Who knows, AOR is the best in the world. Besides, I couldn't deal with losing another friend. Sorry, I mean (hundreds of) friends.
Here, to guide you all out, is my late great best friends funeral song. Here's to many more years. Thanks for reading my experience, and lets hope it never end.
(All this about people over the internet Evan, jeez)
Last edited: