AOR Founder (on hiatus)
Staff member
AOR Admin
Jan 12, 2014
17,686
13,617
AOR F1 Leagues - Season 13
PS4 - Time Trial Event

This is the final step of the sign-up process for drivers who did not compete in Season 12, or competed in the Season 12 Rookie League or Reserve League. Before posting your time trial times, make sure you have posted your sign-up template in the sign-up thread.

To help us judge your pace and assign you to an appropriate league, you will need to set time trial times at 3 specified tracks - Silverstone, Brazil (wet) and Abu Dhabi - using the Mercedes car. When done, post your times in this thread.

In order to be included in the initial league placements, you must submit your times before the sign-up deadline on

16th April @ 20:00 UK time

.

Requirements:

●

Tracks:

Silverstone, Brazil (wet), Abu Dhabi

●

Car:

Mercedes

●

Assists:

Traction Control & ABS must be disabled, however auto gears and racing line (as we can't enforce otherwise in TT) may be enabled. However, keep in mind that if you post times that are quick enough to be placed in the top tier, you will have to race with

no

assists for the league season. The lower tiers will allow some level of assists.

Even drivers who have signed up for the Assist League will have to perform these times with no TC/ABS to see how capable they are without these assists. Should they show pace that is clearly competitive enough for a non-assist tier, they are likely to be offered a spot there instead. This is because the Assist League is designed for drivers who are dependant on TC & ABS in order to drive properly, rather than those who clearly have the skill but just can't be bothered taking them off.

How to post your times:

To submit your times, post a reply to this thread with screenshots of your best lap time for each of the required tracks.

The screenshots must be taken from the end-of-session screen

(not the leaderboard screen), like in the example image below. We do not accept times from older sessions, as these could have been done on an old version of the game, which did have a slightly different detection system for track limits, or some bugs that could be exploited.

Please make sure to include the full screen in your image, and that your username, session best lap time and the icons for assists used are clearly visible. The session best lap time is what will be counted for this event, even if you have a previous best lap that is faster.

You can update your times as many times as you want until the deadline has passed, but please do so by editing your original post rather than making a new post every time.

Example screenshot: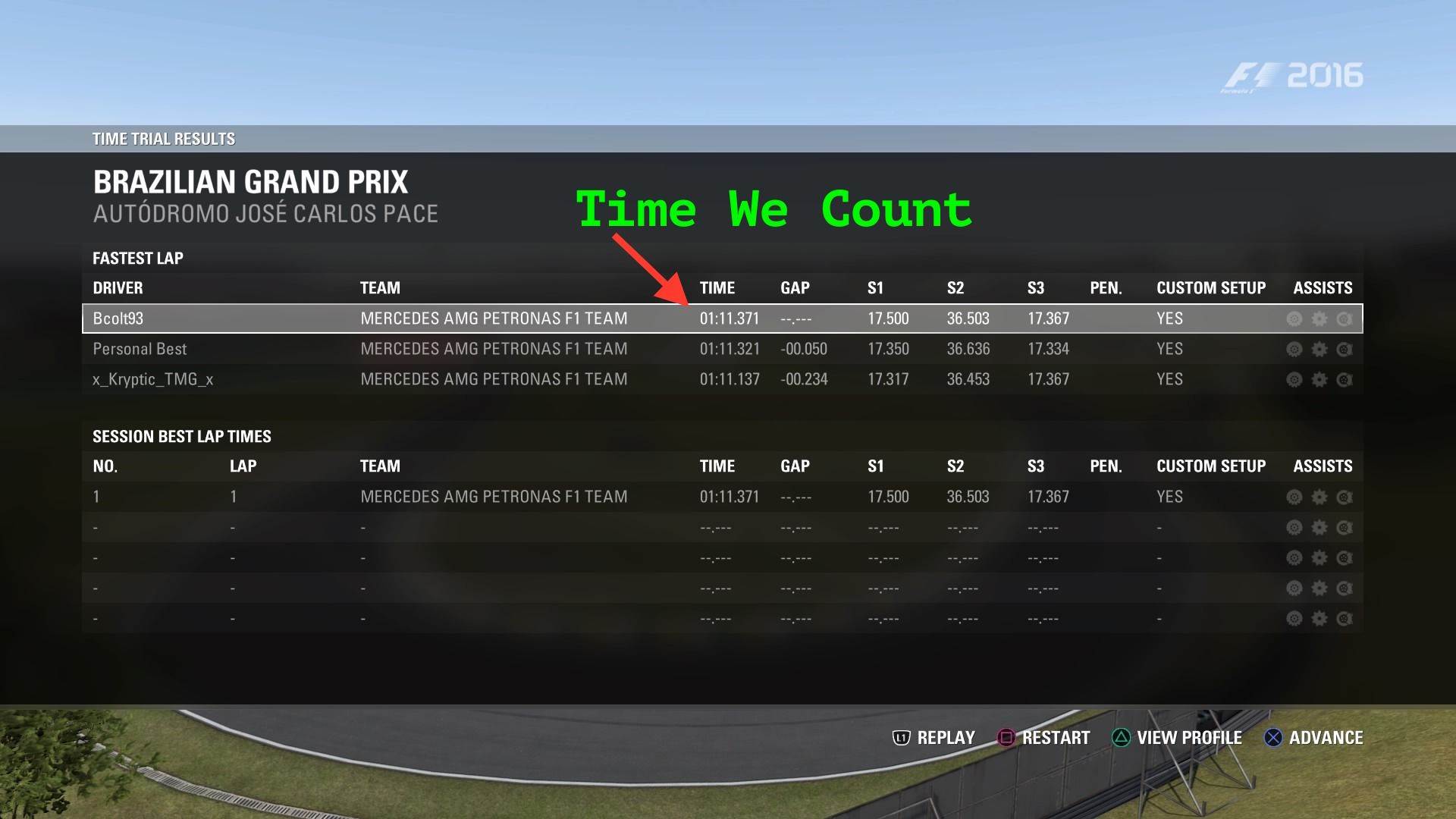 Adding screenshots to your post:
To do this, you can upload your image directly to your post as an attachment, by clicking the Upload A File button. Alternatively, you can upload your image to an external image hosting site (such as imgur, photobucket, dropbox, etc) and add the URL using the Image icon above the text box.
Last edited: