AOR Admin
Staff member
AOR Admin
AOR Project CARS GT3 Leagues - Season 5
PC League Driver Placements
This thread lists the initial league/driver placements for Season 5 of the PC GT3 leagues! Drivers who have signed up pre-season have been included in the initial league setup.
Each league will have its own sub-forum where a Main Thread, Car Selection thread, Team Registration thread and race thread for Round 1 on Wednesday - will be created shortly.
NOTE: If you have missed the deadline, it will still be possible to sign up during the season, however whether it will possible to get into a league at that point will depend on the amount of spaces available. There are currently still spots open in Pro and Semi Pro which can still be filled throughout the duration of the season.
How have the leagues been decided?
The amount of leagues has been determined by the amount of drivers that has signed up for this season so far. The PC platform will have 3 leagues for the first time - GT3 Elite (Tier 1) and GT3 Pro (Tier 2) and GT3 Semi-Pro (Tier 3)
Returning drivers have been placed into leagues based on their championship position from Season 4, but also based on the new time trials. New drivers have been placed in a league purely based on their time trial times.
Due to there being a lot of fast drivers, we have increased the grid to 28 spots for Elite. Meanwhile in Pro, there may still be a few drivers who could have good enough pace for Elite, but we simply don't have the space to accommodate everyone. There may also be drivers who haven't done fully representative times so they have been placed in a league according to their league history.
This has led to us (Dirty Erti) assigning the following leagues: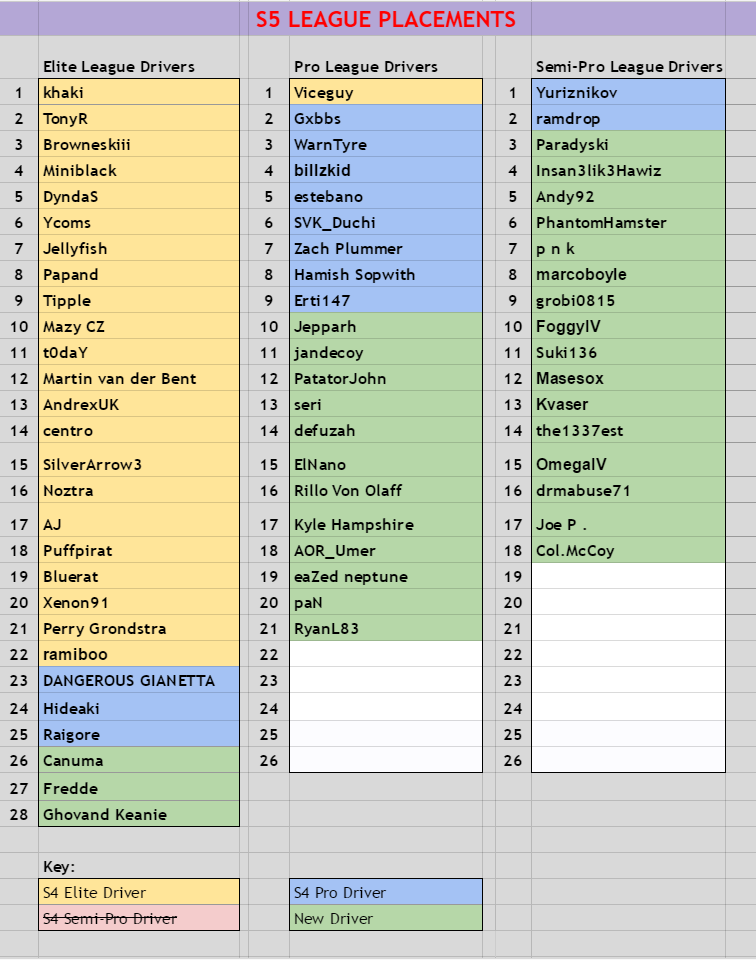 AOR PC GT3 Elite League: Forum Link

AOR PC GT3 Pro League: Forum Link

AOR PC GT3 Semi-Pro League: Forum Link
Last edited by a moderator: