@Delaney
@BL99DY-NINE
@Jackiid15
@Hasnain
@TubbyPhantom
@Gareth Kirk
(& anyone else who reads this)
Ok this will likely be another one of my long posts so brace yourselves lol, anyway before I get into my main idea and what I've been working on for the past week.
What I want to quickly go into first is the short-term scheduled plans that the co-ords have indicated, now I have seen the provisional idea of basically a 4 week one make season followed by a normal 8 week season.
Personally I think were long overdue and do need to do a Gr.1 season in some way shape or form first and foremost, whether thats using a free choice of any Gr.1 car or a specific kind of Gr.1 car isn't the most important thing, the format would a key point as would the length of calendar, but that's neither here nor there right now.
(I will add though I did see someone suggest a LMPH & GT3 combined but I would have serious concerns about a combined season like that just because the lobbies for me aren't big enough, even if you did get a max of 6 (LMP) and 10 (GT3) if your racing a LMP/Gr.1 in that series your not going to have many cars to battle against, especially if your missing drivers.)
Alright its time for the main event
After inadvertently becoming a spectator to that social race a couple weeks ago and watching the first round of the Xmas cup, I noticed something that really stood out to me and that was how competitive and close the field was in general but that raised the question - why? And I think that answer should be clear for everyone - FF.
Front engine Front wheel drive for whatever reason really closed the field spread up and that got me thinking, would it be possible to create a series/season that would not just reduce the field spread, level the playing field while naturally creating very close racing, feature the standard things you want in a round but most importantly fun for those involved and after finding the right car I've feel like I created a masterpiece. (not exaggerating guys honest
)
I'm very happy to present this brand new 'potential' season which features several new ideas and concepts for our league, firstly the Car: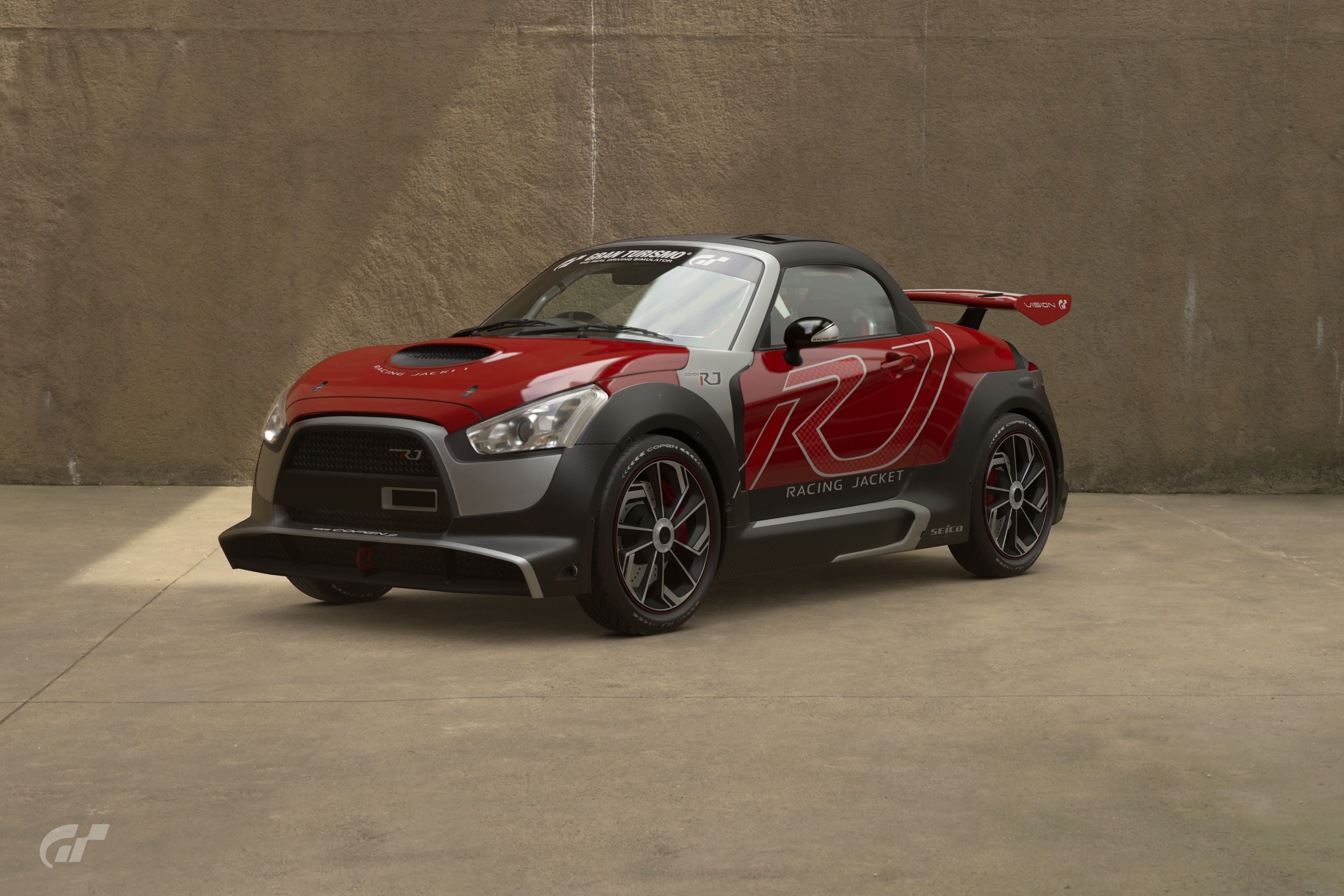 Daihatsu RJ Copen VGT - A FF drive car with 146BHP weighing 600KG, yes I know I've put this car forward before (for a potential one off round in a xmas cup series) but trust me this will provide fun close racing for the whole season.
Worth noting you can't increase the BHP you can only increase the weight of this car but honestly it would not be beneficial to do this, so I've set the limits for max power and minimum weight as it is currently.
Moving on to the format, this series will feature a first ever 3 race round! (yes I know the social did it but first time use in a official season)
The first race of the night is of course the Feature race and to decide the grid there will be just a 5 minute qualy session. (no fuel or tyre wear will be in affect for this)
But the feature race in this series will last 28-30 minutes (instead of the standard 40mins), the race start will be a standing start and only one tyre compound for this race will be used the RM - Racing Medium - the tyre wear will be x12 with a fuel consumption of x7, by doing this this will ensure that all drivers in the feature will have to make 1 stop for fuel and tyres and bring the standard strategy element that we're accustomed too.
The second race will be the Sprint race and the grid for this will be a reverse grid of the race result from the feature, there'll be a 5 min break/practice before the start of the Sprint race and it is intended to last 18-20 minutes with a rolling start, the only tyre compound being used will be the RS - Racing Soft - tyre wear will be x7 with a x3 fuel consumption, however for a new first, cars will start this race with 50 litres of fuel. (which can be done by going into the lobby setting)
And even by starting with half a tank of fuel and a 3x fuel consump. all drivers will still have enough fuel to finish all the sprint races, the only intended issue in this race is potential tyre wear drop off, it is very possible to no stop the sprint with x7 wear but one stop is a possibility to drivers and will give them options if the race isn't going there way.
The new third and final race of the night will be a Rapid race, the grid for this race will be done using a reverse grid of the sprint race result, there'll be again a 5 min break/practice before the Rapid race starts and it will last around just 10 minutes with another rolling start being used, the only tyre compound being used will be the RSS - Racing Supersoft - tyre wear will be just x1 as well as a x1 fuel consumption but cars will start this race with 15 litres of fuel.
Again even with starting with just 15 litres of fuel with just a 1x fuel consump, everyone will still have enough fuel to finish all rapid races, the intention of these race settings is that drivers can really go all out and push to the maximum with the best tyres and a very light car.
And following on, here's the calendar I've come up with once again this will also have a brand new feature to every round, for each race the time of day progresses (you'll see what I mean below), and to best suit this car without doubt the only realistic option is using shorter circuits but this will mean some circuit variations we've never driven at previously (but do bear in mind this isn't in round order, no point at this phase).
Calendar:
Lago Mag. Centre:
Feature
30 Laps 11:30,
Sprint
21 Laps 18:15,
Rapid
11 Laps 20:00
Brands Hatch Indy:
Feature
32 Laps 11:30,
Sprint
22 Laps 18:15,
Rapid
12 Laps 20:30
Kyoto MIYABI:
Feature
36 Laps 10:00,
Sprint
25 Laps 15:30,
Rapid
14 Laps 19:00
Tuskuba Circuit:
Feature
26 Laps 10:00
Sprint
18 Laps 14:00,
Rapid
10 Laps 17:20
Suzuka East:
Feature
30 Laps 14:30
Sprint
20 Laps 16:30
Rapid
11 Laps 18:45
Red Bull Ring Short*:
Feature
28/24 Laps TBC
Sprint
19/16 Laps TBC
Rapid
11/9 Laps 17:30
(*RBR Short has the option of having wet races so that is why the race distance for all 3 races has 2 different race distances and the feature and sprint has no time of day currently set, there is plenty of options available for that round like wet feature, dry sprint, wet rapid or dry Feat. wet Spr. dry Rap. etc, so I feel this is one decision I would leave to the co-ords to decide)
Now that's 6 rounds and when I was planning this I had the idea of 8 rounds but going back to a potential Gr.1 Season, I would like to see that be 5 rounds so if these 2 seasons where to go one after the other then this series would have to be 7 rounds, but if the co-ords decided to stick to a 4 round then 8 round schedule, then I do have another new first based on whatever is decided in season length, firstly if this will be a 7 round season then I present this unique round to also be included in this series:
Blue Moon Bay Round
Feature
- Blue Moon Bay Infield A II - 21 Laps 10:30
Sprint
- Blue Moon Bay Infield B - 18 Laps 13:00
Rapid
- Blue Moon Bay Speedway (Oval) - 11 Laps 17:00 (weak slipstream used)
Yes all 3 variations of Blue Moon Bay in 1 round in one night also with the final race using the Oval, doing this would finally tick that off the leagues 'to do' list, obviously I would understand the apprehension of a oval race in a official league season but considering it would be just 1 race lasting about 10 minutes (& not all 3 races on the night), this would offer a unique test of all drivers skill set as well as creating a wildcard race where literally its completely open and all drivers have a equal chance of winning.
(Only one minor change would have to be made for this round - the Oval race and that's a increase in slipstream strength as stated, to help make sure the pack doesn't get split after the rolling start and keep things tight and tense all race.)
However if the co-ords want to stick to 8 rounds, then the last track which would be added is -
Willow Springs, Streets of Willow: Feature 21 Laps 10:00, Sprint 15 Laps 17:00, Rapid 8 Laps 18:35
(*I do also have an alternative 8th round if Streets of Willow isn't deemed suitable for whatever reason)
Again the final calendar order I would leave to the co-ords to decide.
Moving on to the nitty gritty stuff, tuning/setups would be 'prohibited', shortcut penalty 'strong', 'light' damage would be on, as would 'real' for grip reduction on track edge, assists would only be 'ABS' rest would be banned.
Ok next up is the points system and tiers, now considering the issues that have clearly been raised in the past you won't be surprised to know that I have a slightly different points system, but not just 1 but 2 variations ready depending on the amount of sign ups, the main premise of what I've come up with is to counteract and dissuade anybody simply deciding to take a dive in the feature or sprint race when there not quite as high as they would hope.
So with 3 races per round the focus and key to challenge for overall honours in this championship/season will be on rewarding consistency over the round, sure winning races will be important but how I provisionally have it planned, the main idea will be even if a driver were to win 2 of the 3 races but finish last in the other one, a driver who finished top 4 in all 3 races will have the same points (or close to) for the round as that driver.
Also bonus points for FL's will be scrapped in this series, this is also to counteract anyone who has the idea of using the FL to gain extra points if they were to take a dive.
As for the points system itself I won't go in depth now, I will elaborate if this season gets the green light and as I said it depends on sign ups, and speaking of sign ups I fully believe that this season can only work with a fixed tier format, whether that's 1 tier or 2.
I will say though that I think its time that the league put itself first for a change as while I applaud Delaney for being too kind hearted and basically trying to accommodate all sign ups in the past, splitting previous leagues into 2 when there once barely was 20 signs up. The upshot was that only a couple rounds later we would be one room anyway and any open tier multi-championship became impossible to do.
The point being lets actually think about us for a change, personally I would only have a 2nd tier in any future seasons if we got 26+ sign ups and the reasons for that number are fair as far as I'm concerned, we've kept losing drivers left right and centre over/during the course of previous seasons, and it badly cripples the structure when it happens, at least if we focus on having one tier and a ton of reserves, we'll always be guaranteed a full room and most importantly continuity over the whole season.
Anyway that's pretty much everything, with regards to what category this season would come under, considering that the car is a VGT, this season can be labelled as a 'VGT Season'
, with everything I presented above the basic gist is with this new format you still get over a hours racing time wise no different to the standard now, I know its shorter races but with 3 races that offer something different for drivers to worry about in each (also a shorter wait should anyone unfortunately suffer a dsc mid-race) and reverse grids for 2 of them, and including the use of a sporty FF car this will likely create the closest field & most battling ever seen in a season and hopefully new winners and plenty of surprises.
I do admit my only and main concern is whether this will get the numbers, sure we have a core group here that would likely race this, but its about trying to attract new drivers as well, and I'd imagine this car isn't to well known to the masses so I admit it would be a risk in that regard, but each time our league moves on to something new every season that has also been a gamble.
Finally I will add considering how many ideas I've put forward (including potential series/seasons) over the past year here just for once it would be nice if you took a risk on me and give it a go/chance, this isn't about me being joining or being a co-ord as I've always maintained I'm a ideas man and happy to stay that way, but everyone has there limits and I'm no different.
This series I've put together is unique in a nutshell as there are so many new firsts in it, and because of that it is only logical to stick to that mantra for this potential season, (so no ditching the oval - who knows you may even love it!
) and this will only work if you stick to what I've come up with, sure I can fully understand that some/all of you may look at this and think 'we should/need tweak this' or 'this part has to go' but don't knock it until you try it.
So that's why co-ords I do have a test round prepared, available and ready and waiting to be used
, and if you want to take me up on that offer I'm sure we can organise a date and time for it to happen.
And that it is all, if any of you have any questions please feel free to ask them below and I will get back to you as soon as possible.