Event Information:
●
Date
: 14.03.19
●
Lobby opens
: 20:00(PM) (UK time)
●
Event starts
: 20:15(PM) (UK time)
●
Event format:
● Qualifying:
15 minutes
● Race:
90 minutes
●
Weather Conditions:
For weather conditions and progression, please visit the
Calendar
.
●
In-game time-of-day information:
● Qualifying time:
29/12/18 - 20:00(PM) - Clear
● Race start time:
29/12/18 - 21:00(PM)
● Time Progression:
x1
● Weather progression:
Sync to Race
Manual Rolling Start Information:
Please be aware that we will be doing both an in-game formation lap and an AOR manual start formation lap. Any penalties that you gather prior to the manual formation lap can be removed if you take screenshot before the actual race start. Keep in mind that you must submit a screenshot in order for the penalties to be removed. We will not remove those penalties without it.
●
Formation Point:
●
Acceleration Zone:
If you are unsure about the Manual Rolling Start procedure, please read the
instructions
and watch the explanatory
video
.
Notices:
●
Rules & regulations:
Before you take to the track in the league race, make sure you are fully aware of the rules and regulations
of the leagues. As a driver in our leagues, you are required to do your very best to ensure clean and fair racing at all times.
●
No-shows:
If you are unable to attend the race, please inform the League Coordinator and leave a post in this thread BEFORE the race takes place. Note the rules of participation
here
.
●
Lobby settings:
If you are unsure about the rest of the lobby settings that will be used, look here.
●
Save your replay:
As a means of helping the stewards with any enquiries, all drivers are required to save their race replays and keep it stored for at least one week after the race has taken place. If you are involved in an incident or see something during the race that you feel needs to be investigated, you are free to make a
stewards enquiry
- however if enquiries are submitted without replay or race footage available, it is likely we can't do anything.
Driver list for Race:
LMP3 (14):
@Flaming Parrot
@Minesco2
@D.Brezancic
@Beau
@J Peaches
@IntergalacticGentleman
@Smolda
@Scott Burnett
@Ruddybird
@Logan
@Martinez Maxime
@Andrew Harper
@GTS - Jeremy
@aidtheace
GT4 (12):
@TicklishPicklewickle
@BrakeCheck101
@AndrexUK
@Col.McCoy
@GTS - Pushdum
@Nila
@Milogamer1986
@OTL DAVEALEX4
@GTS - Carlito
@ScottV
@F4H MaR4uDer
@BMW /// M-Power
Reserves for this series will be handled so that reserves will replace the drivers in their class only, i.e if the main GT4 class has a spot, a GT4 driver will be taken before an LMP3 driver. The remaining slots after each class is filled to its main capacity will be taken in order of the sign-up list. We are also hoping to create a sort-of second tier where any reserves not accepted into the main will still be able to race each round.
Reserves:
LMP3:
Reserve List
GT4:
Reserves are expected to inform via the Main Thread if they will be a no-show for each race. Most tracks allow for 32 drivers so at least 6 reserves will be taken each week. The reserves will be rotated based on attendance and participation for each race. Note that just because you are listed as a reserve, you are not necessarily going to miss every race during the season, we hope to give every driver the opportunity to race. However it is up to you as a reserve to make sure that you get that opportunity, by showing for each race in discord and informing the coordinators when you will not be able to make a race. No-show, no inform will affect your placement in the reserves list.
First 6 Reserves in (guaranteed a spot):
Confirmed No Shows:

Qually results: (Any drivers for the re-run that did not do the qually will start at the back of their class)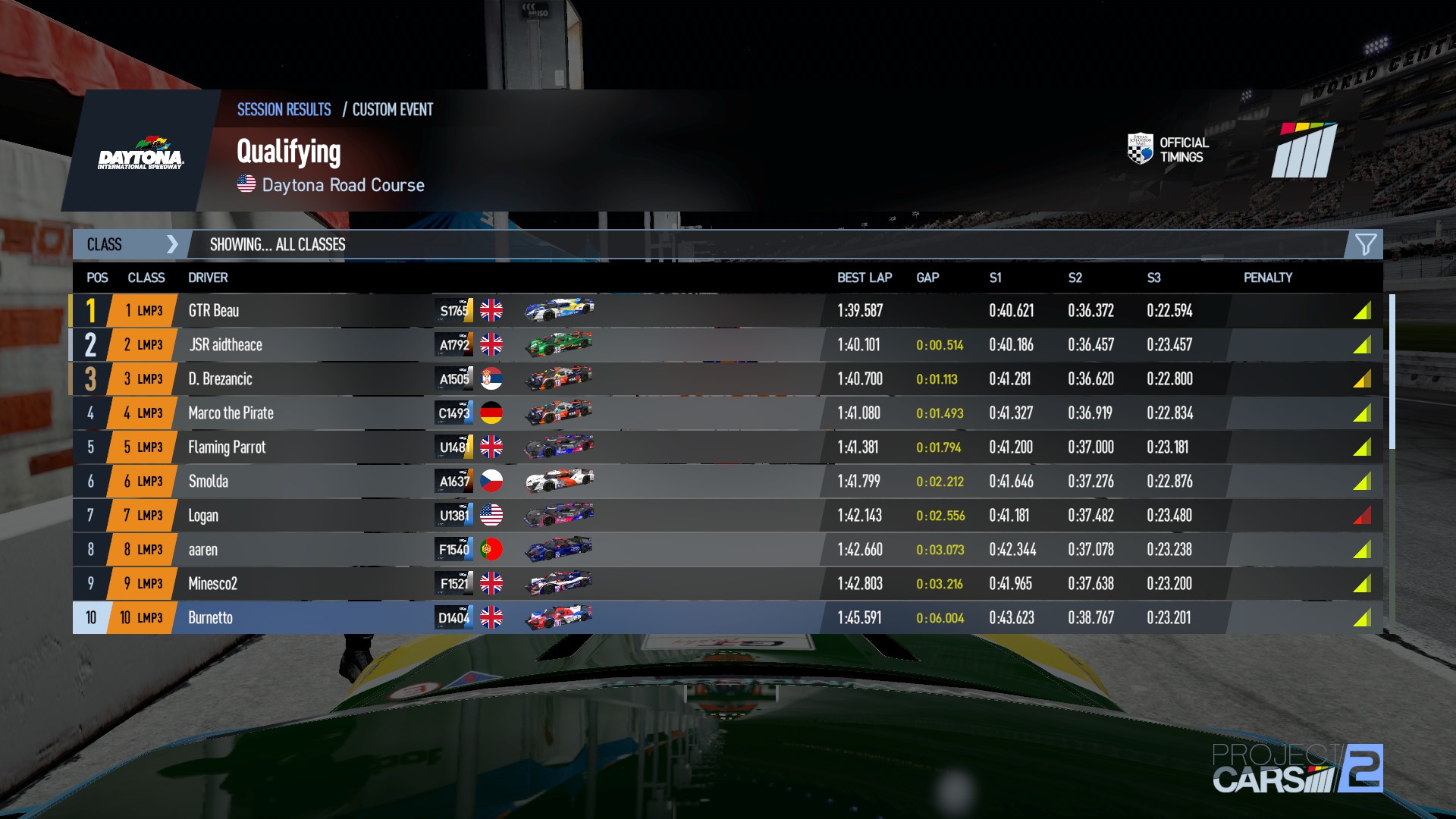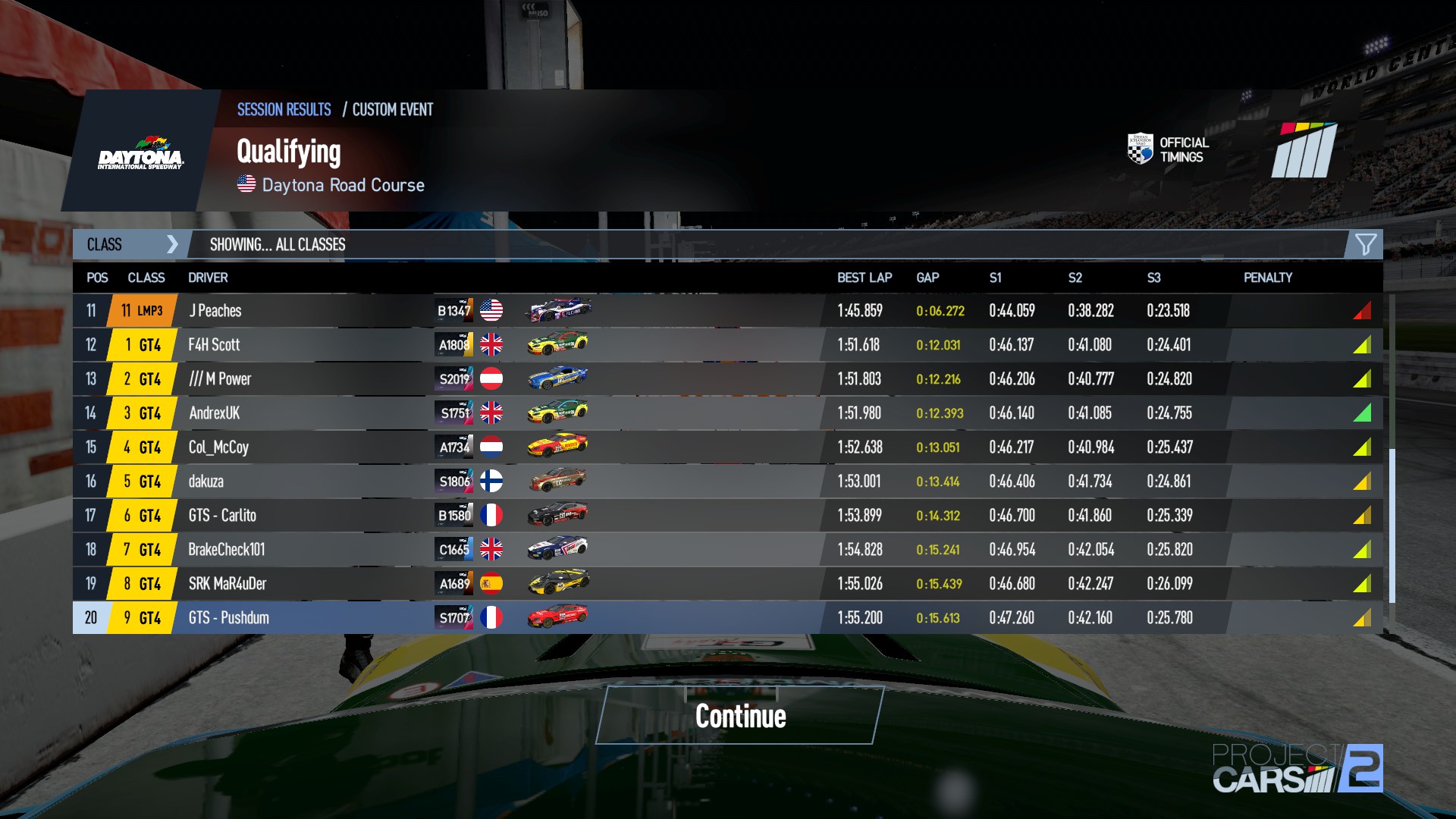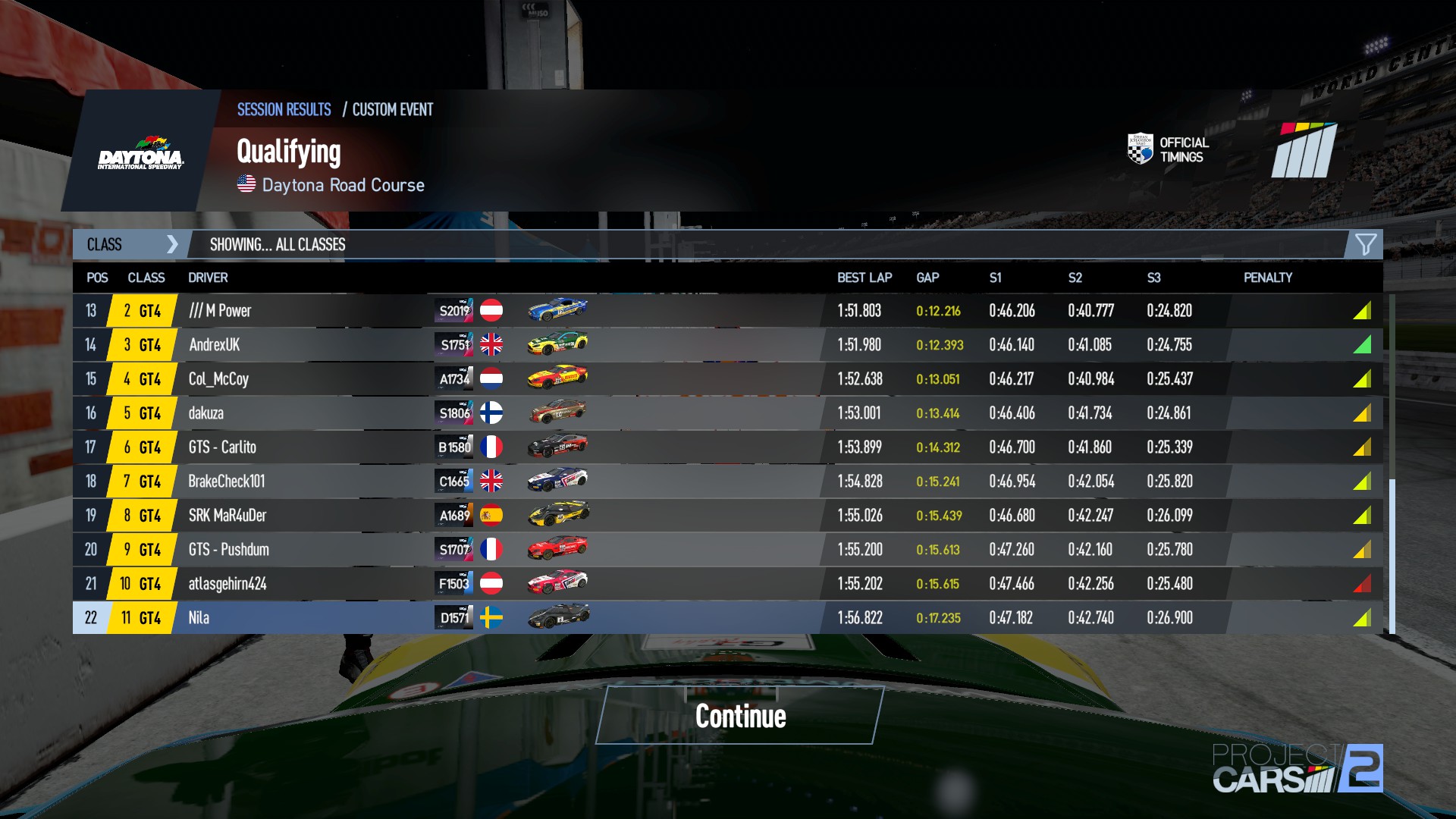 Last edited: