Reigning rFactor 2 Monday League Champion
Staff member
rFactor2 Coordinator
DON'T KNOW HOW TO DESIGN A LIVERY OR A HELMET? VISIT OUR PARTNERS AT VITESSE DESIGN TO SEE WHICH PACKAGES ARE AVAILABLE:
CLICK HERE
SUBMISSION DEADLINE - FRIDAY 21ST SEPTEMBER 23:59 UK TIME (Subject to change)
THE HELMET MODEL FROM SEASON 1 HAS CHANGED. EVERY HELMET WILL NEED TO BE REMADE ON THE NEW TEMPLATE!
Car Livery Template:
Here
3D Photoshop Template:
Here
Helmet Livery Template:
Here
LIVERIES/HELMETS MUST BE SUBMITTED IN CORRECT .DDS FORMAT! (DXT5 INTERPOLATED ALPHA)

AFTER YOU HAVE COMPLETED YOUR LIVERY/HELMET YOU THEN MUST CARRY OUT THE STEPS IN THE FIRST REPLY TO THIS POST
When submitting your livery/helmet make sure to name it accordingly.
for example say you are number 9, the livery file would be named: "AOR2018_09"
and for the helmet the file name would be AOR2018_09HELMET
e.g.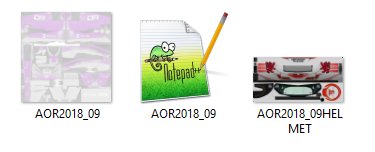 Make sure to include a .veh file in there as well, as follows:
- Where highlighted in red, replace the current information with your team/driver info (
remember the number on the top line!
)
- Where highlighted in green, there is a group number that you'll find here:
Click here
DefaultLivery="AOR2018_

09

.DDS"

HDVehicle=AOR2018.hdv

Graphics=AOR2018.gen

Spinner=AOR2018_Spinner.gen

Upgrades="AOR2018_Upgrades.ini" // Vehicle upgrades information

GenString= // Used to generate GMT names in *.gen file

Cameras=AOR2018.cam // Defaults to cams.cfg in UserData directory

Sounds=AOR2018.sfx

HeadPhysics=headphysics.ini // Affects driver eyepoint only

Cockpit=AOR2018_cockpitinfo.ini

BaseVehiclePrice=0

UnlockExperience=0

//////////////////////////TEAM HISTORY AND INFORMATION//////////////////////////

Number=

09

Team="

Defiance Racing

"

PitGroup="

Group2

"

Driver="

Craig Baxter

"

Description="

Craig Baxter #9

"

Engine="AOR V6"

Manufacturer="AOR Racing League"

Classes="AOR_2018"

Category="AOR F1 2018,

Defiance Racing

"
When submitting your livery message me with the following template:
Team Name:

Full Name:
Number:

Livery:
Helmet:
.Veh File:
Final Guidelines/Rules [MUST READ]
- All file names must be correct following the above templates.
- All layers under the compulsory folder in the psd's
must
be kept, otherwise the submission will not be accepted.
- Every .dds file will need to be DX11'd in order to comply with rF2's albedo map requirements, in the templates there will be a 'DX11' or 'Albedo' group in Photoshop.
It is important that you leave these alone and make sure that they are at the top of the document above any other layer, even the compulsory ones.
- Any decals that are put onto your livery must either be associated with your team/driver or Apex Online Racing,
- Proof of sponsorship will be asked in the case of someone placing a company decal onto their car or helmet.
If these rules and guidelines are not followed your livery submission will not be accepted.
Last edited: