AOR Founder & Director
Staff member
AOR Admin
Aug 18, 2014
17,378
5,287
AOR Project CARS GT3 Leagues - Season 1
PC - Time Trial Event
As this is our first season with the GT3's we will use a Time Trial event to sort out who goes into which league, with the aim to have the faster drivers start off in the higher leagues and slower drivers start off in the lower leagues.
Please bear in mind when completing your Time Trial what assists are going to be allowed - below is a list of the assists available in each tier: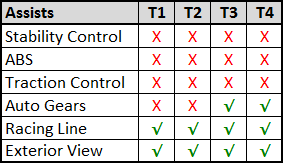 *Note: Racing Line is allowed in all tiers only because there is no lobby setting to restrict it.
How to participate:
Note: Before taking part in the Time Trial event, you must have signed up to our leagues in the
sign-up thread
.
Initial deadline
for completing the Time Trial event is
30th May
as that's when the first leagues and driver placements will be announced.
To complete the Time Trial event, you must post a representative lap time on two specified circuits, using a specified car, as stated below. Your combined time from both tracks will help determine your league placing.
Tracks:
- Circuit de Barcelona-Catalunya GP
- Nürburgring GP
Car:
- Ruf RGT-8 GT3
Please post your lap times by replying to this thread, using the following template:
Gamertag/ID:
Catalunya Lap Time (+Photo):
Nürburgring Lap Time (+Photo):
Assists Used:
It must be stressed that fast lap times are no guarantee as to which tier you'll be placed in, so don't be disappointed if you don't end up where you expected. Also, times
will not be counted
unless a screenshot or photo is submitted.
Lap times:
Drivers who have submitted their lap times will be added to the list below.
● Forum Name - Lap Time #1 - Lap Time #2 - Assists
●
@Partyfuchs
- 1:47.260 - 2:01.265 - None
(3:48.525)
●
@Canisbe
- 1:45.888 - 1:58.949 - None
(3:44.837)
●
@Ryan Smith
- 1:46.008 - 1.58.222 - None
(3:44.230)
●
@poppleton
- 1:46.898 - 1:58.260 - None
(3:45.158)
●
@Erti147
- 1.46.430 - 1:59.214 - None
(3:45.644)
●
@AJ
- 1:46.409 - 1:58.940 - Line
(3:45.369)
●
@Browneskiii
- 1:45.747 - 1:57.976 - None
(3:43.723)
●
@riotbox
- 1.46.500 - 1.58.757 - None
(3:45.257)
●
@Arveena
- 1:44.277 - 1:57.013 - None
(3:41.290)
●
@Noztra
- 1:47.519 - 2:00.853 - None
(3:48.372)
●
@Jacobfraer
- 1:45.895 - 1:59.426 - None
(3:45.321)
●
@Jesper Christiansen
- 1:45.777 - 1:58.240 - None
(3:44.017)
●
@Michal7M
- 1:46:647 - 1:58:678 - None
(3:45.325)
●
@AndrexUK
- 1:45:649
-
1:57.449 - None
(3:43.098)
●
@MAGNUSSEN
- 1:48:154 - 1:58:921 - Line/Ext.View
(3:47.075)
●
@Nuno Sousa
-
●
@Martin van der Bent
- 1:44:815 - 1:57:925 - None
(3:42.740)
●
@Gxbbs
- 1:49.824 - 2:04.349 - Line
(3:54.173)
●
@Giudice-Santo
- 1:47.932 - 2:00.492 - None
(3:48.424)
●
@Szekely915
- 1:45:689 - 1:59:393 - None
(3:45.082)
●
@Viceguy
- 1:46.829 - 1:59.648 - Line
(3:46.477)
●
@Ycoms
- 1:48.096 - 2:00.221 - Ext.View
(3:48.317)
●
@JamieFoppele
- 1:45.718 - 1:58.478 - None
(3:44.196)
●
@Francesco Cinque
- 1:51.032 - 2:04.270- Ext.View
(3:55.302)
●
@DavidGranat
- 1:50.179 - 2:01.411 - Line/Ext.View
(3:51.590)
●
@StelingDk
- 1:46.159 - 1:58.915 - None -
(3:45.074)
●
@Innitialization
- 1:46.518 - 1:59.692 - None
(3:46.210)
●
@Lancs_Brummy
- 1:46.858 - 2:01.322 - None -
(3:48.180)
●
@Martin Kučera
- 1:46.468 - 1:59.334 - None -
(3:45.802)
●
@barroni1981
- 1:46.865 - 2:00.853 - None -
(3:47.718)
●
@Elite_Indrek
- 1:47.384 - 1:59.060 - None -
(3:46.444)
●
@Hamish Sopwith
- 1:47.858 - 1:59.170 - None -
(3:47.028)
●
@xOwnage133
- 1:43.815 - 1:56.379 - None
(3:40.194)
●
@SonOfMaw
- 1:46.311 - 1:58.935 - None
(3:45.246)
●
@moon10002
-
unable to set a time
●
@RC_MoNsteR_99
- 1:45.991 - 1:58.002 - None
(3:43.913)
●
@SilverArrow3
- 1:46.549 - 1:59.177 - None -
(3:45.726)
●
@Yeratel84
- 1:47.318 - 1:57.112 - Line -
(3:44.625)
●
@George Doupis
- 1:48.268 - 2:01.329 - Line -
(3:49.597)
●
@xDee13
- 1:46.734 - 2:00.010 - None -
(3:46.834)
●
@Noisen
- 1:46.395 - 1:58.645 - None
●
@FisiFan91
- 1:45.776 - 1:58.281 - None
●
@ntunxun
-
1:48.504 - 2:03.141 - None
Last edited by a moderator: